Bonnie is now blogging on Huffington Post!
Click on the link below, start a conversation, be a fan and "like" her
And be sure to check her recent Boston Globe Article
Also by Bonnie Kassel at the Boston Globe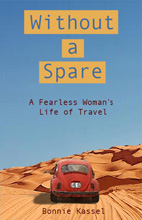 Without a Spare: A Fearless Woman's Life of Travel is a unique collection of interconnected short stories, each chapter set in a different country. The time span is 1960 to the present.

Without a Spare takes place on islands, in jungles, deserts and the exotic cities of Africa, the Middle East, Central and South America, Mexico, Asia and India. The stories are about independence, freedom, adventure, transformation, friendship, laughter, love, sex, youth—and that much doesn't have to change as one gets older if you don't let it. Without a Spare
is essentially about another way to live a life.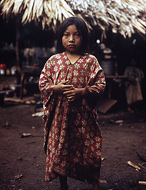 Sample Chapter
I was washing my hair at a well in a Guatemalan village off the beaten track when I caught sight of Jean for the first time. It wasn't just that he was handsome. Gringos never came this way and I was curious. Cleverly, I asked him what time it was and he looked up at the sun before answering. I liked that and decided to ignore the fact that I was packed and ready to leave on the bus that came through only twice a week . . .
Read More