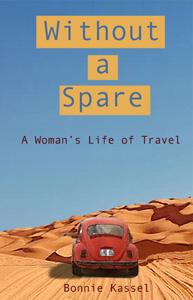 About The Book
When I was fifteen, my father sent me to Switzerland to spend the summer with a Swiss client and his wife in the village of Anières on Lake Geneva. Every single thing in Anières was done differently than it was at my home in East Hills on Long Island, and in less than two weeks I knew that everything suited me better. The typical American baton-twirling teenager who left New York in June returned transformed, and with a determination to experience more of the world.
As an adult I became a freelance artist which gave me the flexibility to travel. When your journey is free from constraints, you can move from country to country without planning, researching, or even considering the weather. And these habits jell for life. Most travelers share a sense of adventure, fascination with the way different cultures perform the same task, and delight in good food, art and wildlife. But an undercurrent in each chapter of Without a Spare and what makes the story specifically mine, is the knowledge that missing the boat from Istanbul to Trabzon on the Black Sea after spending two days getting a ticket not only doesn't matter, it can turn out to be one of the best things that ever happens to you.
About The Author
I have been an artist and traveler all my life. Sketches I drew in Mayan jungle temples and Ethiopian Coptic churches remain a source of inspiration. The blazing saffron silks of India and copper markets of Turkey influenced my palette and led me to work in metal. Kitchens in Belgium, Morocco, and Syria changed the way I cooked. Most of the milestones in my life played out in other countries. Only when I was older did I realize how deeply I was marked by my travels and how everything I am and do grows from them.