Interview From February 17, 2013 broadcast of the "Travel with Stephanie Abrams"! Radio Show
This is the complete version of the hour-long show. Bonnie is the third guest and is featured in the last 1/2 hour, about 21:50 into the broadcast.
EAT, PRAY (for more), LOVE (the book)
"WITHOUT A SPARE takes you on one woman's journey to places far off the beaten path and maybe not even on Google Maps."
I. J. Miller, Author of Wuthering Nights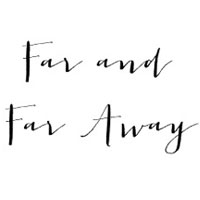 Without a Spare: a book review and giveaway at far and far away.com
"Bonnie's writing is very down-to-earth and approachable, and it makes you feel like you're a part of the story, careening across the Sahara in a Volkswagen Beetle or shopping for colorful thread in a bustling Guatemala market. Her vivid descriptions of her adventures keep you enamored with her narrative as she navigates stunning landscapes, experiences wonderful hospitality and faces utterly terrifying moments. I loved this passage from one of her snorkeling excursions in the Maldives:
'I saw a school of thousands of fish on my left, and when I swam towards them and stopped moving my arms to float and watch, they pressed in, surrounding me until I became part of the school. They were black and white, about one foot long, the squiggly tripes around their eyes and down their cheeks only a few inches from my face and every single one was different. The moment water covers my head and I can hear my own breathing, a sense of peace and familiarity surges over me. This is a place where I belong, where I feel comfortable. Swimming inside this school of fish made me cry.'
It's these kinds of passages—the ones that artfully describe the profound, soul-moving effects of travel—that are like gems scattered throughout this fantastic collection of stories. These passages moved me; they made me think, "Yes, I have had this very same feeling, but on another side of the planet doing something completely different." Travel connects us in such interesting ways, doesn't it?"
If you want to live vicariously this is the book,
"What an adventure this memoir is. The author of this book has crossed more things off her bucket list than most of us will ever include on our own. I was hooked right away… When you read this, you honestly feel like you are right there, experiencing the new sights and sounds. Through fabulous description, this memoir tells a story so vibrant and engaging you can't help but love it. If you like adventure stories and learning about different places and cultures, you have to read this book!
Ionia Martin, Amazon Top 500 Reviewer