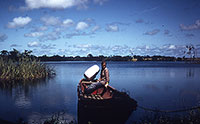 From yachts and private islands to guerrillas with guns,
"This is one of those 'I thought I'd read a couple of chapters before going to bed, but ended staying up all night' type of books.
Ms. Kassel has the writer's most precious gift–the ability to write in her own wonderfully unique voice. She's a real storyteller. There's nothing artificial or stilted about her writing style or her lifestyle. She's a feisty, yet compassionate woman who had her eyes wide open (most of the time) and was willing to take the consequences of her adventurous nature. Things seem to just happen to her, but we all know that these accidents only happen to those who are open to embracing them.
As I was reading her book I thought of other smart, daring women whose lives and memoirs I admire. Emily Hahn comes to mind, as does Beryl Markham and M.F.K. Fisher. I highly recommend this book. It was a beautifully written and very satisfying read that prompted me to think about my own life and choices."
Lorna Bieber, Award Winning Artist
Travels of a Fearless Woman
"This book shows that travel is not just an occasional holiday break, but for some extraordinary people it is a life-defining activity. I will definitely recommend this book to friends."
Cincinnati Reader, Amazon Reviewer
Experiencing this wonderful world, but never as tourist
"I've always known I wanted to be a wife and mother, but I'm always a little envious of women who always knew they wanted to travel and be foot-loose. Bonnie Kassel has lived her life on her own terms, seeing people and places that most of us will never see."
Lisa Kearns, Amazon Top 500 Reviewer