Hiking was the best way to get to know the island. It was only one mile across to the 250-year-old Spring plantation, a working farm now also operating as a small inn and restaurant. Dairy cows, sheep and pigs grazed peacefully in rich green pastures under the shade of tall broad trees. It looked more like the Scottish countryside than the Caribbean. The topography on small Bequia was so diverse, the windward side of the island at Friendship felt like another island entirely. No lapping turquoise water here. A frothing royal blue sea crashed into the rocks, horses grazed beneath steep cliffs along windswept shores. The Grenadines were home to generations of boat builders–men who built boats without plans and we witnessed the riotous christening of one. Whenever we got tired, we hopped on one of the vans blasting calypso music that continually cruised the island, picking up and dropping off passengers without marked stops or schedule.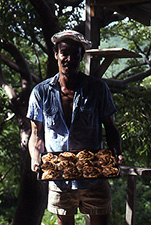 We'd come to Bequia to "work," and as we walked, Kristen and I noted beautiful pastel colored walls for food shot backdrops and she wrote down the times of day when the lighting would be best for our photographs. We set the alarm for early photos, dragging along props–once a gigantic clump of bananas on a stalk hacked directly off the tree. One morning the aroma of cinnamon led us to Nando's bakery high up in the hills. When we explained what we were doing with the tripod and camera lenses, Nando told us about Adaline's coconut pound cake she only sold at a roadside stand. Then Adaline told us about Enid's barbeque take-away with her unique sauce. On our back into town we passed Captain Paul (a Richard Dreyfus look-alike) and Richard, his 6'7″ Scottish mate who told us about Daphne, one of the best local cooks on Bequia. Known for her coconut rice studded with nuts and raisins and an outrageous pumpkin crab rum potage, yachters brought Daphne empty pots for her to fill for their parties. So before we even went looking for the food, it found us.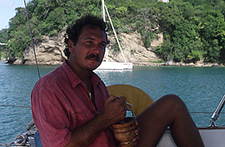 Captain Paul invited us for an impromptu dinner that evening. When we arrived, the boat was surrounded by Zodiacs and guests carrying covered platters were being helped aboard. The galley was filled with cookbooks, pots of herbs and a bread maker. Most of the people we met lived on their boats for months at a time and they'd created a market for a variety of foods one wouldn't have expected on a small island. Doris of Doris' Fresh Food opened a gourmet shop with her German boyfriend Dieter and they had "the best bread between Antigua and Grenada." A dense dark country bread, each loaf contained one cup of yogurt. The locally produced M. Punnett's homemade pepper jelly was the quick foolproof basting sauce everyone used, the long-life Irish sweet butter in tins essential for baking at sea. Most of the European imported cheeses came from Martinique, the Dutch Gouda covered in red wax worked its way down from down from Curaçao.
We picked up a copy of the requisite Exploring the Windward Islands by Chris Doyle before leaving with our new friends to leisurely explore some of the other islands in the Grenadines. Watching me tightly wrap loaves of banana nut bread to smother with honey butter for breakfast in the morning, Kristen said she's convinced that I went hungry in a past lifetime as it's the only explanation for the extreme pleasure I get stowing provisions and seeing a full larder. But the truth is, we both love the challenge of turning out special meals from small spaces.
Enterprising men in small boats ply the waters daily with fresh fruit, vegetables, fish and lobsters. "Good morning," we heard from our starboard side. We looked over to see a small florescent red and blue wooden boat laden with crates of mangoes, papayas, oranges, and massive bunches of chives. It was Carlos in his occupation of the morning, produce salesman– in the afternoon he became a water taxi driver. His boat was named "no problem," but the phrase applied to easy going Carlos and his assistant Harvey as well. If you didn't want to go to shore, Carlos took orders and sent Harvey.